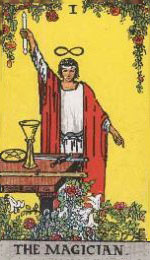 The Secret to Reading the Tarot can very easily by summed up by the following quote and here I will share it with you.
"A few observation and much reasoning lead to error; many observations and a little reasoning to truth."
Alexis Carrel
I am always receiving requests for a comprehensive list of all the meanings I use on Aquarian Insight.  I'm more than happy to make these available, but this is not enough.  I agree it is useful to see how another interprets the cards, and I did the same when I was first learning.  But if what you want to be able to do is read the cards for yourself, then here's all you need to know: The secret to reading the tarot is to say what you see.
Yes, it honestly is that simple.  The rich, expressive depictions on most tarot decks will convey a story and eventually allow you to tap into your own intuition, conveying messages to you.  This is one of the reasons it is very important to select the appropriate tarot deck for you, especially when you are starting out on your tarot journey.
I would recommend the Rider-Waite tarot deck, which is what we use on the website or one of the decks based on it.  This is not to say that the Rider-Waite is the best tarot deck, as it is an individual choice, but rather because it is so popular and easy to obtain.  Once you have your tarot deck, then you're ready to start.
The first thing you need to do is familiarize yourself with the cards.  If the deck is brand new and has not been shuffled, the cards will be in order, but for the purposes of this exercise, it does not matter.  So either take the first card in the deck or randomly pick a card.  What does this card depict?  How does it make you feel?  Is it a happy card?  Maybe it makes you feel sad or even scared- what is it about the image that makes you feel these emotions?
I would suggest that you initially spend no more than a minute on each card.  Go through the deck and pick out the main theme or emotion related to each card.  Then go back a second time, this time really looking at every detail of the card and observing the emotions you feel when you look at each one.
I'm going to post an entry for each of the cards in the Universal-Waite tarot deck, telling you what I see and feel.  But before you look at what I wrote, why not try the exercise yourself.  Then compare what you felt and saw with what I did.  There is no right answer – it is important that you understand that.  Rather than trying to memorise books and books of meanings, make your own connection with the cards.  See what they tell you.  Maybe we'll have seen the same things, but maybe we won't have and I would love to hear your insights, so please let me know how you get on.
Check Out The Full List Of Observations For All 78 Cards!