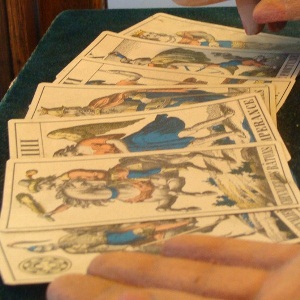 I've been reading tarot cards for 15yrs now.  I studied astrology from the age of 12, and then numerology, runes and even palmistry, but it was the tarot that fully allowed me to express my psychic gifts.Something about the mystical aspect of those beautiful cards allowed me to fully open the gateway to my higher self and I have never looked back.
I originally started divining with a normal deck of playing cards, and this was just something that I experimented with.  To be honest, I was quite sceptical about using cards.  How could pieces of laminated card help one predict anything?  But this scepticism soon disappeared as I saw the guidance from these cards begin to help people as they accurately predicted future events.
It was a natural progression to tarot and the imagery of the cards helped me really harness my psychic abilities, especially as I was also able to incorporate my knowledge of astrology and numerology.
Even now, a decade and a half after I began my love affair with the tarot, I am still overcome by the extraordinary guidance and insight they reveal and the comfort and insight they bring to people's lives.  Indeed, as I remove the cards from the cloth that I keep them in and begin to shuffle, I feel a calmness wash over me, and I feel so grounded and at peace.  The universal knowledge that we all carry within us and that has been passed from generation to generation is held within those cards.  By consulting them, we acknowledge that we too are a part of the universal energy and that knowledge, past, present and future is ours too.  We are not alone – we are all a part of the whole, and we can effect change; that power is ours.