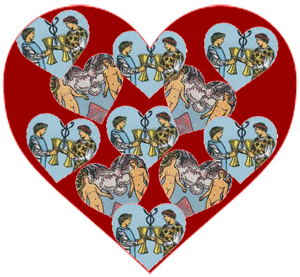 February is the month of love, relationships, romance, Valentines and Tarot Readings; well you'll find Tarot Readings on Aquarian Insight at least!   I have spent the whole of January updating and changing the website to give it a new look and to make it easier to navigate.
Just in time for February and in the spirit of Valentines and all things relating to love, relationships and romance, there is also a new Free 'Heart of the Matter' Relationship Tarot Reading which I have specifically created for questions relating to your love life.
A Tarot Reading can be a great tool to explore the workings within your relationships or your attitudes to love and relationships and thus help empower you to create a more fulfilling love life.  The Free Readings we offer on the site can be great to get you thinking, but sometimes they're not enough and this is when a Personal Tarot Reading can help.   As I wrote in Reason, Season, Lifetime: Tarot Reading For Love and Relationships most of the questions I am asked as a Tarot Reader are to do with love lives.  This is why until Valentine's Day the Aquarian Insight 'Question One' Tarot Readings are available for £5 when your question relates to your love life or romantic relationship.  This is a mere third of the price you would usually pay for this reading.  All you need to do is to book your reading via the Personal Tarot Readings page selecting the Aquarian Insight 'Valentines' Special Offer Reading option.
No matter what you get up to this February, I wish you all a fabulous month filled with love and laughter..