Aquarian Insight Code of Ethics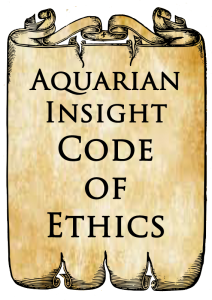 Due to the actions of some rather unscrupulous individuals and organisations, often all practitioners of the tarot get a bad reputation.  However, not all of us are out to use tarot as a tool for manipulation or to defraud unsuspecting individuals who are looking for help and guidance.  Aquarian Insight aims to provide a professional and ethical service to all clients.  Outlined below is the Aquarian Insight code of ethics.
Aquarian Insight serves the best interests of all clients, conducting all professional activities without causing or intending to cause harm.
Aquarian Insight will treat all clients with equal respect, regardless of their origin, race, religion, gender, age, or sexual preference. 
Aquarian Insight will keep confidential the names of clients and all information shared or discussed during readings, unless otherwise requested by the client or required by a court of law.
Aquarian Insight will recommend clients consult a licensed professional for advice of a legal, financial, medical, or psychological nature that I am not qualified to provide.
Further details on how we work within this code of ethics and Aquarian Insight's deeper beliefs about the tarot are elaborated upon in many articles on this site, some of which are listed below and also within our Terms and Conditions.