2015 – The Chinese New Year of the Sheep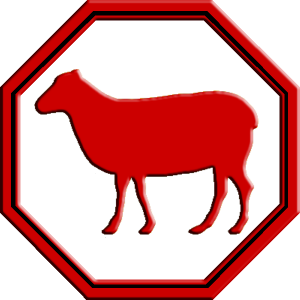 On 19th February 2015, we enter the Chinese New Year of the Sheep. This is also sometimes called the year of the Goat or Ram. The number 8 is considered to be very lucky in China, and as Sheep is the eighth sign of the Chinese zodiac, it is connected to peace, good fortune and abundance. This may seem strange to people in the West where the term 'sheep' or the derivation 'sheeple' are used to describe those that mindlessly follow others and do not think for themselves. However, this would be an extremely unfair assessment of the people born in the year of the Sheep and the energies associated with the year.
How the Year of the Sheep affects you depends very much on your individual signs. This is revealed in more specific detail in The Year of the Sheep for You. But looking at the general energies of the year of the Sheep, we can hope for a period of peace and calm. Sheep is the very essence of contentment, peace and love. Therefore, under the influence of Sheep's year, we can expect a slower pace of life and our attention may be more focused on friends and family. Sheep is kind and gentle, and always ready to listen and bestow empathy and sympathy. We may all find and display more of these qualities this year.
In a Sheep year, there may also be a tendency to want to travel; not so much for business, but more for relaxing holidays to help replenish the body and soul. Sheep deeply appreciates and excels in the arts. You may find you also share this interest this year; everything from visiting galleries to theatre productions to music. You may also find that your own creative side is inspired, so be sure to nurture and act on any inspiration.
We must be careful though; as wonderful as it is to spend time with our loved ones and enjoy art and creative in all its forms, there may be a tendency this year to let the finances slip. If ever we were to be tempted to "put it on the credit card", it will be this year.
I want to end with my own perspective on the Sheep year. I love the idea of spending more time with loved ones and it will be beautiful if we were all more caring, sensitive and emotional. But there are certain aspects of all this peace and calm that seem unrealistic. You see, it is said that Sheep's energy will usually suppress more turbulent events like severe weather changes and extreme political upheavals. I don't mind if we don't see any major severe weather changes. However, as I write this at the beginning of February 2015, I find that I myself am sceptical about Sheep being able to do all that this year. Or maybe I'm one of those that is actually hoping for a major political change, as we have a general elections here in the UK in May. I don't want to get too political here, but I am interested to see what transpires especially under the year of the Sheep.
So, that's the Sheep in general, be sure to read about how this year affects your personal sign.