2011 is The Year of the Rabbit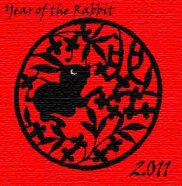 3rd February 2011 is the Chinese New Year meaning that 2011 is the Year of The Rabbit.  How this year affects you personally will depend on your own sign and you can read about that here, but in general terms, 2012 is the Year of the Rabbit and is thus considered to be a peaceful calm year which is a welcome relief after the chaos and ferocity of the previous Tiger year.  Money is easily made in a Rabbit year which is a good thing as it is just as easily spent.  It is a time for leisure and rest; a time to enjoy the finer things in life like gourmet food and luxury living.  Enjoy these pleasures, but beware not to become too indulgent.
Next year is the year of the Dragon and it promises to be a wild and exhausting time.  To gain the greatest benefit from the Rabbit year, take it as an opportunity for relaxation, pleasure, family gatherings, entertainment and travel.
A Rabbit year usually makes people realise that persuasion is better than force so diplomacy is high on the agenda.  It is definitely not a year to force issues as such behaviour will only lead to failure.   Globally, we can expect political compromise and diplomatic peacemaking.
What does The Year of the Rabbit have in store for you personally?